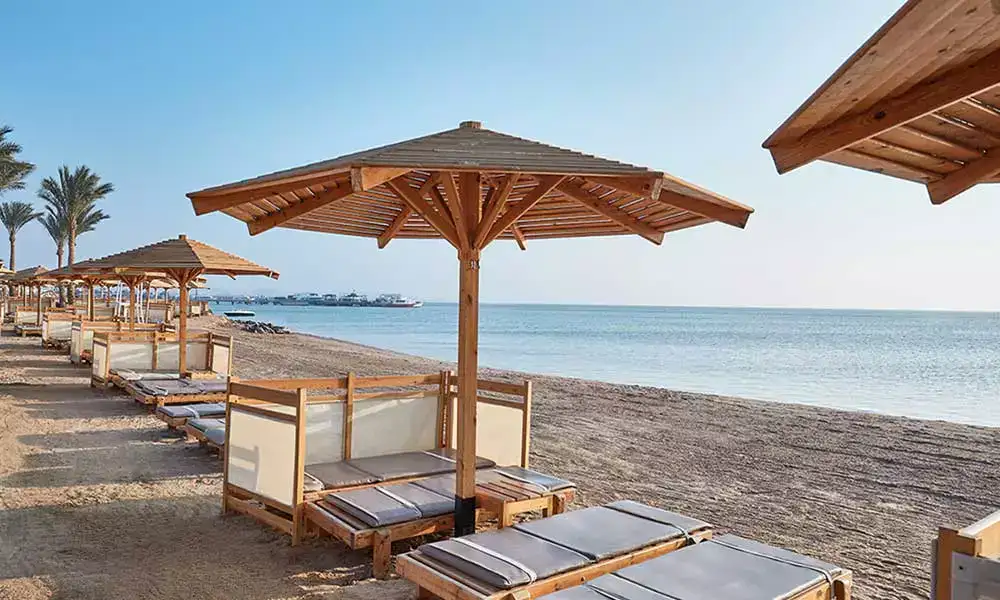 For aquaphiles, Steigenberger Aqua Magic offers a private sandy beach, five swimming pools covering 2600 square meters, two children's swimming pools, a 400 meters lazy river, a PADI certified Ilios dive club and water sports center.
 
Comfortable sun loungers and parasols are perfect for relaxing after an invigorating swim. Grab a drink from the pool bar or have a light alfresco snack while enjoying the Red Sea sun.
 
For guests seeking privacy, two Aqua Relax swimming pools for adults only are located on the rooftop in a serene private setting. This secluded area is complimented by a bar and butler service.
 
Swimming Pool Safety Regulations
Swimming pools are open daily from 8:00 hrs to sunset
Swimming at night is not permitted.
Swimming is at your own risk.
Children must always be accompanied or supervised by an adult.
Diving is not permitted.
Running is not permitted near the pool deck area.
Please shower before using the swimming pools.
Glass containers are not allowed in the pool deck area.
Electrical appliances are not permitted in the pool deck area.
Please wear the appropriate swimwear; topless bathing is not permitted.
The hotel cannot be held liable for any injuries and/or accidents that might occur if a guest does not abide by these regulations.
The hotel is not liable for the loss and/or damage of any personal belongings.
 
Swimming Pools Admission
Open daily 08:00 hrs to sunset.
No lifeguard on duty.
Children must be accompanied by an adult.

Activities
Aqua Park
Swimming Pools & Beach
Ilios Dive Club & Aqua Center
Vista Spa
Fitness Center
Golf