The Grass is Greener at ALDAU Development Properties after Installing Solar panels on the rooftops of Steigenberger ALDAU Resort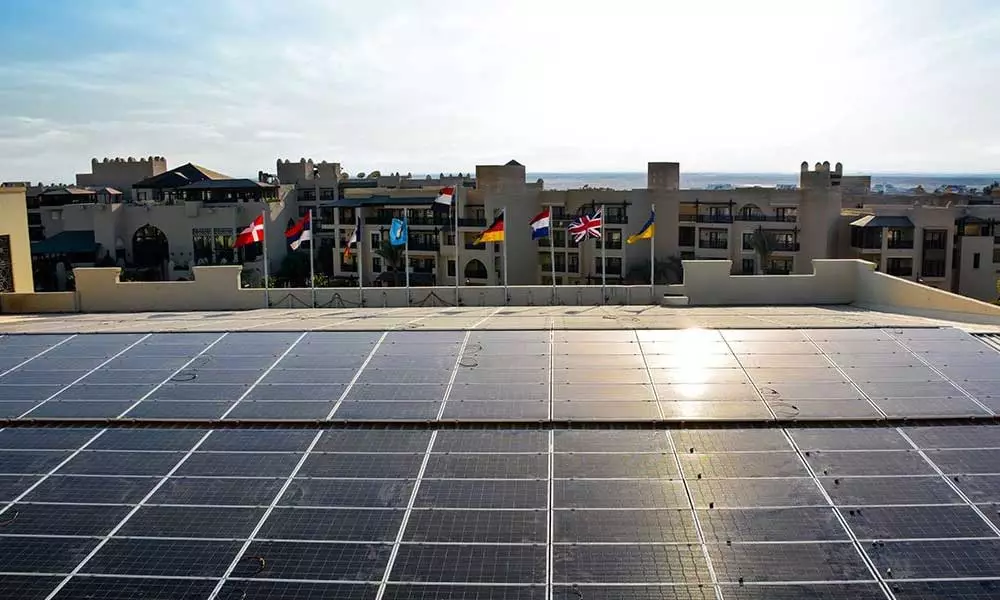 ALDAU Development continues to deliver positive change by further investments in sustainable energy, installing solar panels technology in Steigenberger ALDAU Resort. The 1st of October is a turning point for the energy consumption system at the quality-leading, Steigenberger ALDAU Resort, one of ALDAU Development's portfolio in the Red Sea.
The Resort has always been keen on building a high-end dynamic community for its guests. In 2019 the property has decided to install a 150 kWh solar system station, covering 1,200 m2, saving 900,000 kW electricity consumption per year.

The 30,000 kg solar panels, imported from the UK by Gree Solar, have successfully been installed and ready. ALDAU family is proud to have finally taken a giant milestone to reduce their carbon footprint, protect the environment, and contribute towards preserving the beauty of our beloved Egypt.

"We believe that the law of banning single-use of plastic by the Red Sea governorate has been a great choice and ALDAU Development has taken a bigger initiative in giving back to the environment. After replacing all-out plastic utensils with paper ones, we were still keen on contributing with bigger changes in the direction of sustainable energy and it was vital that the project would be up and running before the end of 2019." – Lars Geweyer, CEO of ALDAU Development Hospitality Division

ALDAU Development, member of Sami Saad Holding Group, has pioneered in the delivery of premium residential and hospitality properties in Egypt and abroad for the last twelve years. With its keen understanding of the market and its ground-breaking experience in Egypt, the company seeks to produce projects and services that fulfill the needs of the various market segments it serves, having proven that with a track record of establishing the best-in-class resorts, hotels and conference center.

ABOUT ALDAU DEVELOPMENT
"ALDAU Development" is a subsidiary of "Sami Saad Holding" which was founded back in 1962. Since its foundation, the company has had remarkable footprints on the path of evolution and growth until it became one of Egypt's largest private holding companies, offering diverse services covering up some of the most critical sectors of the Egyptian economy like construction "Samcrete", automotive "Mercedes Benz", fast-moving consumer goods "Corona" chocolate and real estate.

"ALDAU Development" operates two divisions: Real Estate & Hospitality. The hospitality developments are looked upon as the stars of success shining bright in the skies of the group; being regarded as the best in class resorts, hotels and conference centers. We take pride in our existing portfolio of 3 superior hotel properties, "Steigenberger ALDAU Beach Hotel", "Steigenberger Aqua Magic" and "Steigenberger Pure Lifestyle", in addition to "ALDAU International Conference Center" and "ALDAU Art Promenade" all in Hurghada. ALDAU Development Hospitality Division continues to grow internationally with the successful development of "Holiday Inn London West" in London, United Kingdom. 
ALDAU Development Real Estate projects have earned an unparalleled reputation for bringing hospitality excellence into real estate projects. The portfolio of ALDAU Development Real Estate includes ALDAU Heights launched in 2015 followed by ALDAU Strand in 2016. Both projects' unique location & stunning views are a true reflection of the group's ideology in developing residential projects perceived as class communities that are best-in-class-developments. With a few large-sized projects underway. ALDAU Development Real Estate strives to optimize quality, serve new markets and continually improve all aspects of its work to deliver the most possible means of reliability of its developments.