Lars Geweyer Chief Executive Officer – ALDAU Development Hospitality Division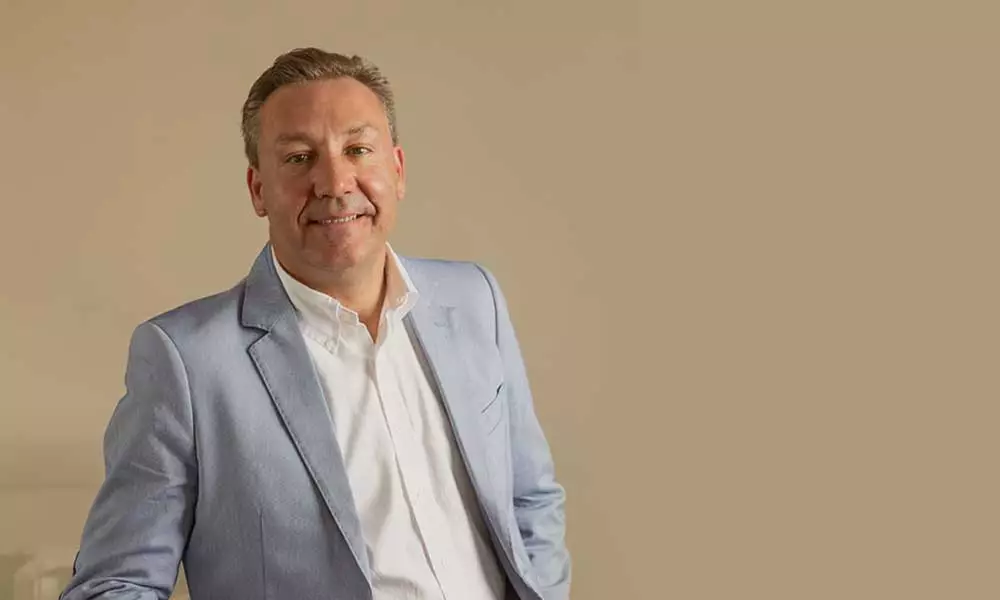 Lars Geweyer, the CEO of ALDAU Development Hospitality Division that owns and manages several hotel brands as Steigenberger ALDAU Resort, Purobeach, HolidayInn London West & Hyatt Regency Cairo West. He's carried his knowledge and wisdom all the way to Egypt to unravel his passion for the hospitality industry. In this in-depth interview, he reveals a journey full of determination, perseverance, and success.
1.  YOUR TITLE IS DEFINITELY A HIGHLY DEMANDING ONE. TELL US HOW DO YOU MANAGE TO FIND BALANCE BETWEEN YOUR PERSONAL LIFE AND WORK?
Balancing your personal life and work is challenging to everyone in any given industry nowadays. The key to achieving a balanced life is to arrange your priorities and approach life in an optimistic and positive way. Most importantly, you need to pursue a career that you truly enjoy because, at the end, every job position has its own advantages and disadvantages, but the way you deal with them can shape your lifestyle. Everybody runs a busy life, but we all learn from the obstacles that try to hinder us; besides, it's important to view them as rather challenges that will teach you to grow than burdens. And, as a consequence, you will learn how to be happy which, in return, will drive you into a successful direction where you'll be able to deliver the ultimate results. So, regardless of the position you run, it is a matter of priorities and passion.

2.  SINCE YOU HAVE WORKED IN FOUR CONTINENTS AND 12 COUNTRIES THROUGHOUT YOUR CAREER, WHICH REGION OR COUNTRY WAS THE TOUGHEST YOU WORKED IN AND WHICH WAS YOUR FAVORITE AND WHY?
Every single region had its own experience and challenges, but they all made a learning curve for me because you cannot learn and grow without coming in a direct contact with impeding hindrances. While I faced several obstacles in almost all the countries I've worked in throughout my career, China can rank the highest on top of the list. It was back in the 90's when I used to work in Beijing when I was overly involved by one the greatest challenges. At that time, the hotel market in China was at its lowest and we were just opening up the huge hotel, Kempinski Lufthansa Beijing Hotel. Not only that, but we were also establishing the first western shopping mall, and a dozen of Food & Beverages outlets. Despite the difficulty, we managed to launch the hotel and kick start the hospitality industry in China. My experience in Cuba was also a challenging yet an interesting one. I was there during the hurricane disaster that forced the hotel's operation to shut down its doors for six months. My most recent toughest experience was in Egypt during the revolution of 2011. It is undeniable that this time was quite challenging for almost every industry ever. However, despite the hazardous circumstances, our Steigenberger ALDAU beach hotel in Hurghada witnessed a positive loop in the market with an occupancy as high as 74% of Egyptian guests throughout the entire year.

3.  WHAT MAKES YOUR MANAGEMENT OF STEIGENBERGER ALDAU STAND OUT AMONG THE COMPETITORS? WHAT IS YOUR EDGE AND HOW DO YOU MANAGE TO MAINTAIN IT?
For me, quality management ranks high on the list; it is what drives people toward your services in the first place. Investing in the right people comes second, and last is the efforts of owners, developers, and managers in charge of an international brand. All three combined play the biggest role in keeping us on top of the game; they highly contribute to our success in the industry. Moreover, we also aim to stay unique and different to be able to stand out among our competitors. 

Our Steigenberger Pure Lifestyle Hotel has just launched on the 1st of November, in 2018. We shaped the hotel differently and more eye-captivating with 133 suites that all embrace a strong accent of modernism. Our pools also hold the same modern styles with entertaining activities like disc jockeys, party pool, and built-in billiards table, all alongside a chill-out music played to amuse the guests. This definitely makes us prominent among our competitors, for we are the only hotel in Egypt with two billiard tables built inside the pools. We also have lots of other facilities that provide our guests with ultimate enjoyment and pleasure. This includes our all-white real modern chic beach club, disk jockeys available at the beach and the pools, and a gourmet restaurant that serves the food hot and fresh as we introduced the idea of live-cooking only where the guests observe their meals while being cooked. So, that is what I believe in to have the ultimate edge; it's listening carefully to the customers' needs and expectations and exerting the efforts to follow the fast pace of the trends. Yet, we do not only want to keep a parallel pace with the leading trends, but also want to set them ourselves, so we can always be one step ahead.

4.  AS THE CEO TO ALDAU DEVELOPMENT HOTEL DIVISION, TELL US ABOUT YOUR FUTURE PLANS FOR STEIGENBERGER ALDAU RESORT IN ATTRACTING MORE TOURISM.
Our future plans usually involve focusing on the needs of our customers' and listening carefully to be able to meet with their high expectations and deliver to them the ultimate experience of hospitality. Thus, we're expanding our projects to cover as many parts of Egypt as possible. We have now 3 hotels in Hurghada, including Steigenberger ALDAU Beach hotel, which is considered to be a grand one with the biggest public spaces, Steigenberger Aqua Magic, and Steigenberger Pure Lifestyle, which is an all-suite all-adult hotel. Starting with Steigenberger ALDAU Beach Hotel, it is an award-winning 5-star deluxe resort that embraces the biggest pool in town with around 5000 cubic meters of water. We also have the biggest conference center with a 360-degree digital projector. Not to mention that most of our rooms face the Red Sea, giving our guests the privilege of having a picturesque scenery that they can ultimately enjoy during their stay. And, that's exactly what I refer to when I say we're trying to be unique; we try to think out of the box for vibrant results. 

Still in Hurghada, we have Steigenberger Aqua Magic that lies on the opposite side of the other two hotels. This one is a 725-room family resort; it is the perfect destination for families who value privacy as our suites allow the parents to have their own room with a flat screen while children have another room with their own screen as well. Which is the ultimate definition of privacy. Moreover, we own a certified water park with 9 swimming pools inside the hotel tailored for our guests' entertainment. 

Interestingly, we have what we call the "ALDAU Art Promenade" that stretches in the middle of Steigenberger ALDAU Resort where all three hotels overlook the Promenade. In this particular area, we focus on both Egyptian and International art, offering statuses to observe, entertaining events to attend, and great food and beverages to savor. 

Moving to Cairo, we are about to open our 5-star the Hyatt Regency Cairo West Hotel; it's located on Pyramids Height Alex-desert Road. This one is a next generation luxury modern hotel with a grand outdoor area for holding events with a great number of people. We also offer a diverse food hall, a restaurant, Cairo's longest in & out social lounge and bar, many of live-cooking stations, a market shop and a Plaza. That's not all we have in Cairo, we also have a real estate project, Cairo West Residence, which consists of 350 luxury units with a large food court to be present in the same destination. We're having great plans at Giza as we foresee the pyramids area in a constant growth due to the soon opening of the new museum and the new airport. 

5.  TOURISM IS COMING BACK IN THE REGION AFTER MANY ECONOMIC REFORMS HAVE BEEN APPLIED RECENTLY IN EGYPT. WHAT ARE YOUR EXPECTATIONS FOR THE COMING PERIOD FOR HOSPITALITY INDUSTRY IN HURGHADA?
Fortunately, the tourism industry is recovering, even if the progress is slow, but it's still going in a promising direction, especially the beach tourism. I'm claiming this according to our case in Steigenberger ALDAU Beach Hotel. Hopefully, the great efforts taking place in the country will highly contribute in the development of the future of the tourism industry. I believe that quality is still the key to success. This industry is a huge one that evolves rapidly every day, thus, it's important to thoroughly study the set plans before following them to avoid any hindrances. I'm expecting a great future for Egypt and that will definitely reflect on the hotel industry positively.

6.  IN EVERY CAREER PATH THERE IS ALWAYS A CRITICAL MOMENT WHICH DICTATES THE FUTURE OF SOMEONE'S SUCCESS IN HIS CAREER. WHAT WAS YOURS AND HOW DID IT INSPIRE YOU TO REACH WHERE YOU ARE TODAY IN THE INTERNATIONAL HOTEL INDUSTRY?
In fact, my family played a great role in encouraging me to embark upon this career path; it has been a life-long dream that I vicariously lived throughout my childhood years. I spent my childhood years in Germany where my father was the General Manager of one of the prominent hotels in the city of Cologne as well as other numerous cities around Germany.

Basically, I've grown up while being quite accustomed to a life inside hotels. My family also used to move a lot; I resided in about five different places hence my father's nature of work. 

With such an early exposure to the life of the hotel industry, I, myself, grew up to embark on the same journey as my father's. I gained my experience while roaming around four of the world's continents and working in 12 different countries. Coming in contact with as many cultures, where all of them are distinct from one another, helped me in earning tremendous skills that are deemed to be among the strongest factors in my career, and the most exciting of them all. It has been 14 years now since I've arrived in Egypt and, two years after my arrival, I was introduced to the Chairman of ALDAU Development, Bassel Samy Saad and his Samy Saad Holding Company.  Alongside the heritage of my family, I found myself taking the same steps. And now, I've been in charge of ALDAU Development hospitality division in the Samy Saad Holding Company for 12 years.