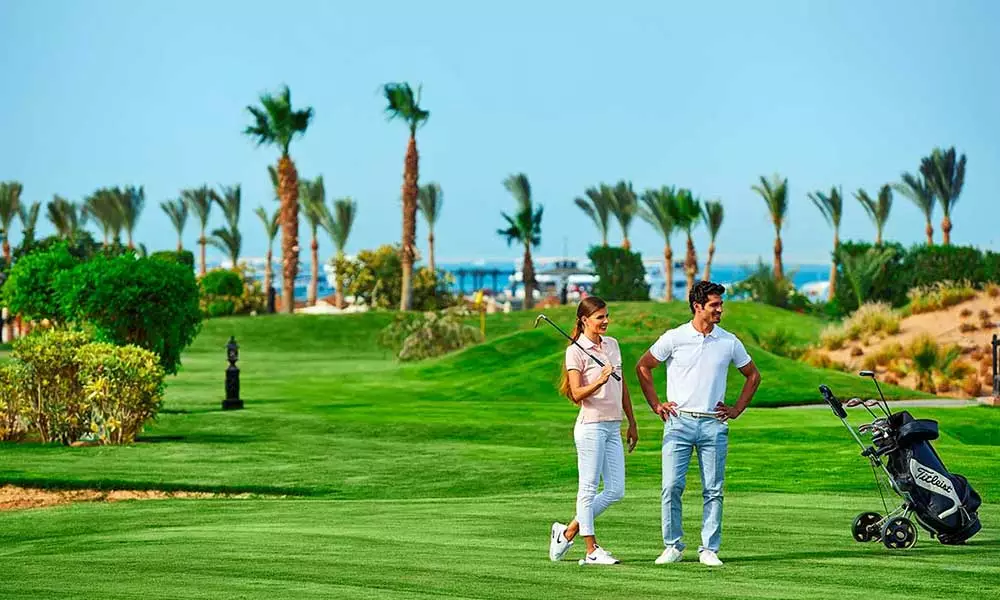 "The only thing a golfer need is more daylight" – said the famous Ben Hogan. Steigenberger ALDAU Resort offers an exciting, unparalleled and sophisticated golf experience you can have in a stunning atmosphere, with a sensational and breath-taking sea view!
Set amidst the abundant natural beauty and fresh air. A 9 hole par 3 pitch and putt course is nestled on the beach overlooking the turquoise waters of the Red Sea, offering a challenge to all experienced golfers, it is worth mentioning that Steigenberger is the only hotel that offers golf courses (unlimited handicap) as a part of its all-inclusive formula.

The course is floodlit to enjoy the cool of the night during the hotter months. The spectacular surrounding scenery and an exceptional view blend harmoniously with the natural setting always enjoyed whether you are a beginner or a pro. A practice area is available, open day and night with a professional teacher to give all the advice needed. Come and join  us at the Golf Club House situated next to the beach. Facilities include a well-stocked pro shop, changing rooms and showers.

Last but not least, we also have a golf lesson offer that will start from the 17th of March valid until the 23rd of March with a 10% discount for Steigenberger ALDAU Resort guests.