Algotherm Thalasso & Spa wins World Luxury Spa Award!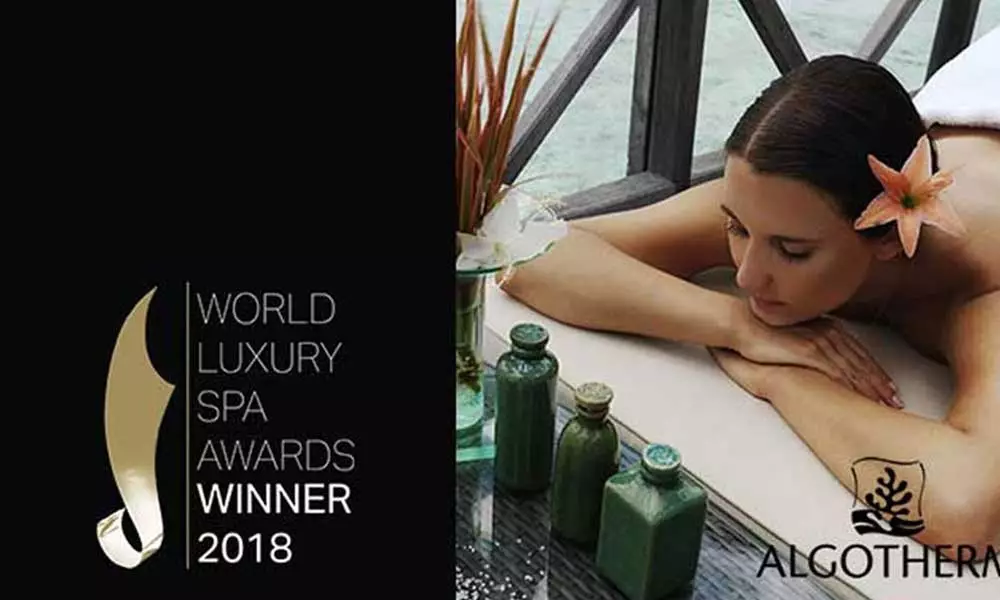 CAI-Egypt - Mr. Lars Geweyer, CEO of ALDAU Development - Hotels division, is proudly announcing yet another great success by Algotherm Thalasso & Spa after receiving the prestigious award "World Luxury Spa 2018 - Country Winner" as the luxury beach resort spa in Egypt."We could not be more excited by the recognition and we are highly honored with every award we receive as it proves our commitment to providing tranquility, sophistication, and extravagance services." Says Mr. Geweyer.
World Luxury Spa Awards; Setting benchmarks for quality, innovation and service for spas around the globe and established as the world's leading awards initiative for luxury spas. Sets the spotlight on super spas, attracting the attention of global spa-goers and industry experts.

Awards are presented to luxury spas in 32 different categories on a country, regional, continent and global basis. Voting is based on service excellence and is cast by spa guests. Algotherm Thalasso & Spa is the perfect place for those who are seeking self-indulgence, leisure and luxury that offers a diverse range of superb spa packages to improve overall health and well-being. It's a tranquil haven combined with an exceptional sense of serenity dedicated solely to the beauty of pampering!

For more information: http://www.luxuryspaawards.com/winners/2018-spa-awards 

"At present, ALDAU Development is also celebrating its vast expansion in London, Cairo and Hurghada with extensive projects. We are expecting the opening of Steigenberger Pure Lifestyle boutique hotel in November 2018, Steigenberger Pure Lifestyle is the latest 5-star hotel by ALDAU Development in Hurghada. The only all-white, all-suites, all-adults boutique hotel on the Red Sea that dazzles with Mediterranean lifestyle, sensual tunes and stunning modernity.

The hotel offers a new dimension of luxury and leisure, it's an oasis of pure vibes with quiet daylight melodies, loungy chill-out music in the afternoon and hip beats until dawn. With three remarkable suite categories; Jacuzzi Suites, Swim-up Suites and Penthouse Suites with private infinity pool. Steigenberger Pure Lifestyle is the only boutique hotel in Africa that has a private pool with built-in billiard tables, bathroom amenities customized for the beauties, spectacular weekly beach parties at our trendy restaurant beach club "Alex" and gourmet live cooking stations inspired by international cuisines. We are also expanding our magnitude in Cairo with the opening of Hyatt Regency Cairo West.

The superb hotel will be one of the most outstanding city hotels due to its ideal location that is only 5 kilometers away from the new Grand Egyptian Museum and overlooking the Great Pyramids of Giza as well as our top modern presidential suites that also have a direct Pyramids' view. It is also part of Pyramids Heights Business Park that includes ultra-modern European food hall with live cooking stations, an array of best-in-class F&B varieties and a brand 360 degrees ball room equipped with the latest facilities.

The Nikkei Japanese-Peru Fusion which is a modern, first-rate and superior restaurant offering an unparalleled dining experience will also be part of our exclusive facilities. Moreover, our lavish and world-class spa center that offers tranquility treatments one could ever wish for! The hotel's mega centerpiece is our fancy bar as well as the masterpiece glass piano which is a whole new of level of extravagant entertainment and uniqueness"Mr. Lars Geweyer- CEO of Hotel Division About ALDAU Development: ALDAU Development is a hotel, real estate and retail developer located in Egypt. The hotels division are considered a shining example of the Group's success.

ALDAU Development has a track record of establishing the best in class resorts, hotels and conference centers. At present, ALDAU Development owns and manages two existing Steigenberger ALDAU Hotels in Hurghada, In addition to "Steigenberger Pure Lifestyle" expected to open November 2018, an International Conference Centre and a Shopping promenade. Bringing hospitality excellence into real estate, ALDAU Development launched two real estate projects in Hurghada;

ALDAU Heights and ALDAU Strand, the newest premium residential communities on the Red Sea Riviera. Based on its past success in hotels, the company has positioned itself to create the best in class residential and shopping destination in Hurghada.