ALDAU Development Organizes the International Women's Forum for Arts in Hurghada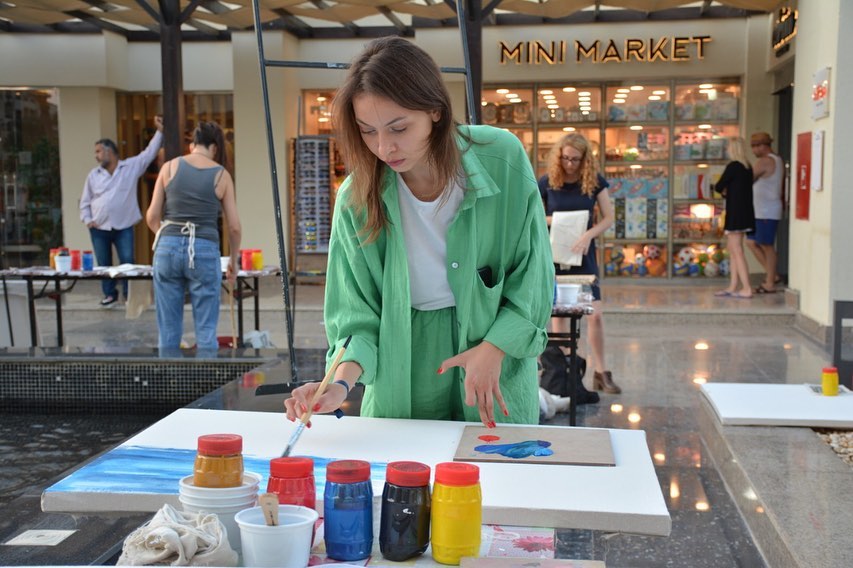 Supporting the leaders of passion, power, and creativity, ALDAU Development organizes the "International Women's Forum for Arts" at ALDAU Art Promenade in Hurghada. Participating with 40 female artists from 16 different foreign countries to create this year's forum that started on November 12th until 19th.
The hip touristic promenade was filled with exhibited plastic arts, live shows, musical performances, and a very special concert that combines mixing music with arts performed by the talented Dina Salah.
The forum is sponsored and hosted by ALDAU Development in collaboration with Ostraca Art Gallery founded by the artist Mohamed Hemeda that organized the 8-day event, with a grand closing ceremony that took place on November 19th in the presence of the participating artists, and some of the most famous plastic artists from all around the world.
ALDAU Art Promenade has been the optimum hub for hosting arts & culture activations since its foundation. It is also an all-year-long outdoor art gallery decorated with artistic sculptures and abstract masterpieces, and colored by the wide variety of shops and authentic restaurants, making it an irresistible attraction for tourists and locals.
ABOUT ALDAU DEVELOPMENT
ALDAU Development, member of Sami Saad Holding, has pioneered in the delivery of best-in-class hospitality and residential properties in Egypt and abroad for the last twelve years.
With its keen understanding of the market and its ground-breaking experience, ALDAU Development has successfully owned, developed and managed the portfolio of award winning resorts, hotels, conference center as well as residential & commercial projects.
ALDAU Development hospitality division currently operates in 3 destinations; the quality leading hospitality complex Steigenberger ALDAU Resort comprises of three 5-star deluxe properties in Hurghada, the contemporary Holiday Inn London west in London and the upcoming ultra-modern Hyatt Regency Cairo West in Cairo. ALDAU Development Real-estate division has earned an unparalleled reputation for bringing hospitality excellence into residential & commercial projects including ALDAU Heights, ALDAU Strand both residential compounds launched in 2015 & 2016 respectively. As for the commercial projects; ALDAU Village mall in Hurghada & C'West in Cairo. In addition to our new upcoming project Cairo West Residence.
For more information, please visit our website www.aldaudevelopment.com or follow us on Facebook and LinkedIn.