ALDAU Development Hospitality Division celebrates the beginning of 2022 with immense success & thousands of satisfied guests.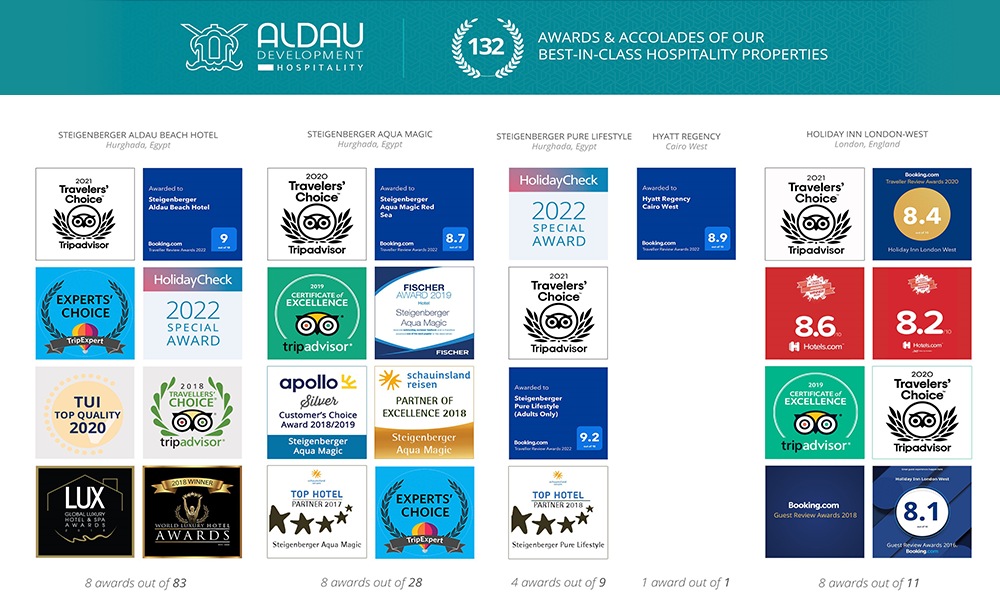 The best-in-class properties of ALDAU Development Hospitality Division have reached a total of 132 awards and accolades. Our hotels have always been keen on delivering best-in-class quality and service, providing the ultimate vacation experience with immense focus on the proven key performance areas in Total Quality Management and Service Excellency.
In Cairo, we were honored to receive the very first award - "Travel Review Award" from Booking.com for our newly opened Hyatt Regency Cairo West, recognizing the warm hospitality, service excellency, and highlighting that the property is well set for a successful operation. It's a great milestone indeed, right after achieving the 1st rank on TripAdvisor out of 127 properties in the destination in just 4 months of operation.
In Hurghada, Steigenberger ALDAU Resort is traditionally leading the destination, providing top-notch hospitality.
Steigenberger ALDAU Beach Hotel – our star property and the absolute leader of the luxury segment in Hurghada, has received a total of 83 awards & accolades for the utmost hospitality and unforgettable guest experiences.
Steigenberger Aqua Magic – the best family getaway in the Red Sea, that welcomes thousands of families annually and provides a unique playground for fun-filled vacation experiences, is proudly closing 2021 with industry & travel 28 awards.
Steigenberger Pure Lifestyle – a boutique jewel that proudly holds 1st position on TripAdvisor at the destination, is continuing to inspire guests with a unique adults-only hospitality-concept, reaching a total of 9 awards & accolades.
Following our Red Sea success, we have yet another property showing great results in providing convenient hospitality in London, England – HolidayInn London-West. This hotel has received a total of 11 awards, providing the guests great hospitality and services, while offering a comfortable atmosphere so people could relax and enjoy their stay.
ABOUT ALDAU DEVELOPMENT
ALDAU Development, member of Sami Saad Holding, has pioneered in the delivery of best-in-class hospitality and residential properties in Egypt and abroad for the last twelve years. With its keen understanding of the market and its ground-breaking experience, ALDAU Development has successfully owned, developed and managed the portfolio of award-winning resorts, hotels, conference center as well as residential & commercial projects.
For more information, please visit our website or follow us on follow us on Facebook and LinkedIn.