Wild & Curious in Hurghada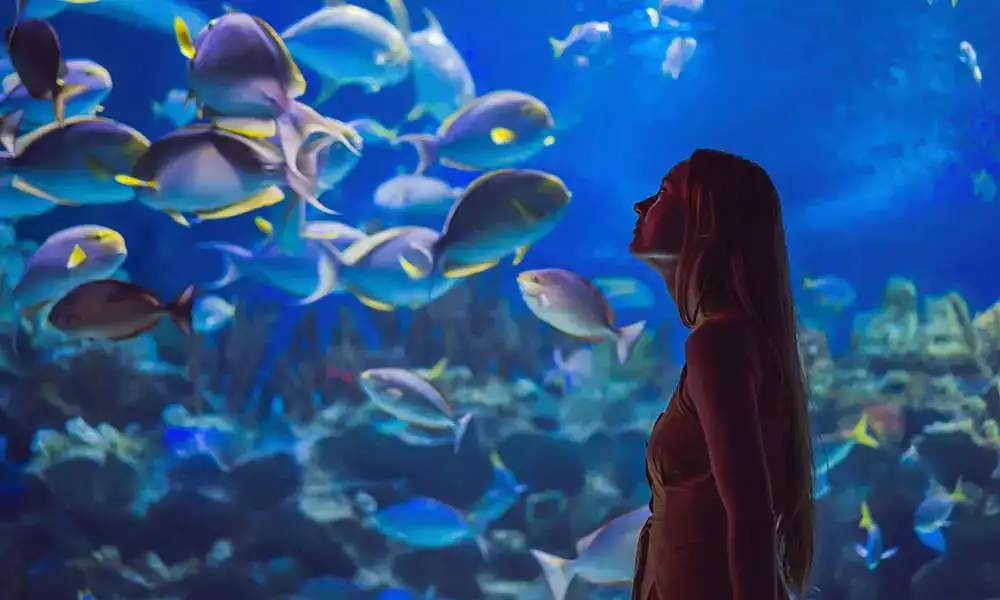 Pack your love for adventure and set your destination to Hurghada! The dream vacation offers a wide variety of escapades with an array of activities. Here's a bucket list for when you travel to the most beautiful destination in the Red Sea.
Landmarks and Attractions:
1. Hurghada Grand Aquarium


Walk beneath the Red Sea in glass at the inspiring public aquarium. Open 7 days a week, from 9:00 to 7:00 for prices that start at 200 EGP, and 32$ for foreigners. The award-winning Grand Aquarium of Hurghada is one of the largest indoor aquatic habitats in the world and has been dedicated to amusing guests since 2015. Housing more than 1,200 animals and 100 species in marine and freshwater.
Make sure to visit the rain forest, the mini zoo, the fossil exhibit of Wadi Al-Hitan which is one of UNESCO's world heritage sites. And discover the shapes and colors of fish at the marine aquarium and freshwater aquarium, then lay back and relax at the Arabian/Bedouin tent. Or if you're looking for an adrenaline rush, book your appointment to dive with some of the Red Sea's most astounding predators. Yes. Sharks!

2. Hurghada Museum
Have you ever been to the Hurghada Museum? The newly open institution is the first antique gallery in the Red Sea where you can discover and learn about the Egyptian civilization from different ages all in the same place.

Get some authentic souvenirs at the shopping area then enjoy watching the folkloric bands and dancing shows at night that present some of the Egyptian cultures. Don't forget to have your Pharaoh picture taken by a professional photographer, while your toddlers have the time of their lives in the kids' area because the museum is keen on offering a full family experience.

The Hurghada Museum is conveniently located near Steigenberger Aqua Magic and ALDAU Art Promenade, and you can easily purchase your tickets online through their website for prices that start from 40 EGP to 250 EGP https://hurghadamuseum.com/.
Desert Activities:
1. Quad Biking & Off-roading
There are several desert safari organizers in Hurghada that will plan you a day full of adventure for a great price of around 350LE per person, including more than one activity, camel rides, lunch, and an oriental tannoura and belly dancer show at the end of the day.
And the most convenient thing about that trip is that an air-conditioned land cruiser or a mini-van picks you and your friends up from the reception of your hotel and drives you back safe and sound, happy with a full belly, and memorable photographs.
2. Horseback riding
The symbols of nobility, pride, and grace. Horses in Hurghada love the desert and the sea too! Book your 3-hour horseback riding excursion and run as free as a bird in the openness. Catered to your needs, the guides or trainers will make sure you are comfortable and safe, finding you a horse that suits you perfectly.

Habiba Horse, Yalla Horse, El Rancho, Luna Stables, and Samara Stable are some of the places you can contact for a great Arabian Knight experience. Prices range from 480EGP to 800EGP per person, most prices include air-conditioned transportation from and to your hotel.

 3. Bedouin Dinner
Experience the well-known generous Egyptian hospitality at its finest, at the humble tents of the Bedouin Village, and discover the serene nightlife of the Arabian Desert when you go to a colorful Bedouin BBQ dinner with a breathtaking folkloric show. Transportation from and to your hotel is provided as well.
Diving Sites
The Red Sea in Hurghada is abundant in diverse marine life, with colors that you can't even name, and shapes almost impossible to describe.
Diving prices start at 500EGP for 2 dives per day, including the boat, lunch, and drinks all trip long. If your vacation is mostly about diving, you can arrange with your diving center to buy bigger Day-Dive packages that start at 1,500EGP for 4 dives, up to 6,000EGP for 16 dives.

1. Straits of Gubal
Pro or beginner, the Straits of Gubal is a perfect diving and snorkeling site in Hurghada. For over 100 years it has been the path of ships, in which many had hit reefs causing them to sink, creating beautiful underwater wreck sceneries and a marine life that is in excellent condition, and not far from the surface. Keep your eyes open as you can find dolphins, sharks, and other big exciting species.
2. Straits of Gubal Abu Nahas Shipwreck Site 
Northwest of Shadwan Island, is a triangular-shaped coral reef where there are at least 7 shallow shipwrecks, making it an exciting playground for inexperienced scuba divers. The site can be visited from Hurghada, Gouna, and even Sharm El Sheikh. 
Beach & Water Activities
1. Windsurfing & Kitesurfing
Harry Nass Wind-Surf & Kite Center            Kite-Active School
There are several Windsurfing and Kitesurfing schools and centers in Hurghada where you can show off your skills or learn from scratch. Rated the best by travelers on Tripadvisor, Sea Memories, Kite-Active School, Nomad Kite Events, Sultan Kite School, Harry Nass Center, and Magic Kite are some of the most professional and highly equipped, shallow-water places with the best guest reviews where you can live a great experience.

2. The islands
Looking and feeling like the Maldives, this is a must-go-to trip. The paradise beaches of the islands in Hurghada are drops of heaven and just one little boat trip away.
With "Travelers' Choice" Awards on Tripadvisor, the Islands of Giftun, Orange Bay, and Mahmya Island are eco-touristic havens, exotic escapes with crystal-clear water, delicious food, great music, and fun people to mingle with.

Book a full-day trip for around 1,200EGP. The price varies according to group size, including the transportation from and to your hotel, and a one-hour-long boat tour, where you pass by families of dolphins in clear shallow water.

Aside from this thrilling bucket list, Hurghada is a magical city full of authentic modest neighborhoods, hundreds of shops, restaurants, and cafes with breathtaking views, international cuisines, and generously helpful locals.