Redefining the Suite Accommodation Experience of the Red Sea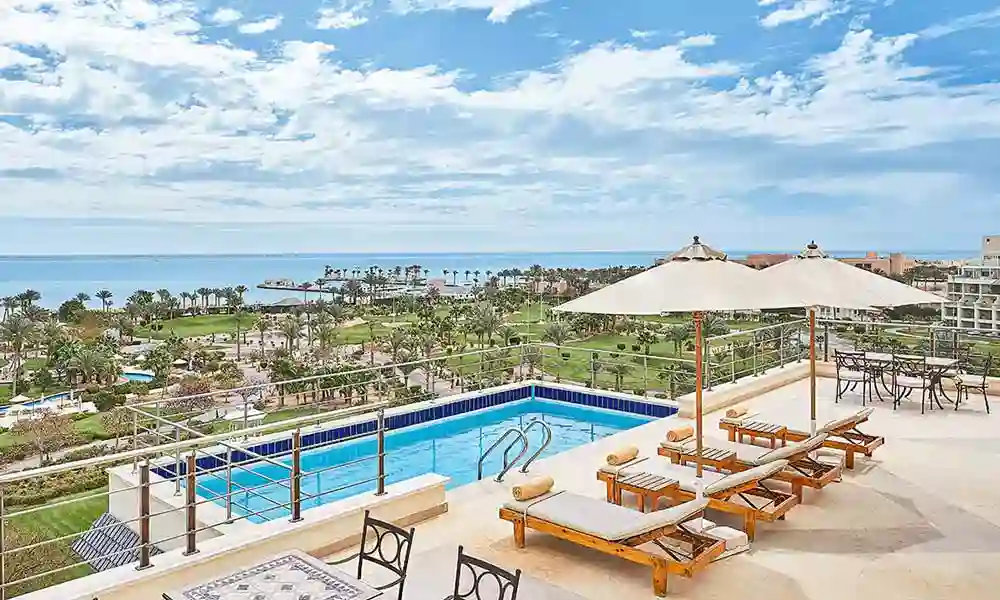 Welcome to the new extravagant suites of the award-winning Steigenberger ALDAU Resort, where simplicity, luxury, and modernity blend in to create an incomparable stay at the best 5-star hotel in Hurghada.
The 3 hotels of the massive complex, Steigenberger ALDAU Beach Hotel, Steigenberger Aqua Magic, and Steigenberger Pure Lifestyle proudly present the new ALDAU Signature Suites Program. More than 170 suites with a variety of different designs, all perfectly tailored to leave guests in awe. Let us take you on a virtual walk through our first-class, new suites.

Experience waking up to a breathtaking panoramic view of the infinite horizon of the Red Sea, all the way to the natural greeneries beneath your balcony, which you can also see from the wide-bay windows of your living room.

Make your guests feel comfortable when you invite them over for a drink at the View Suite, as the guestroom is equipped with a rich minibar, a dining room, a guests' bathroom, and a divine terrace furnished with a modern sitting area and a sunbed. A contemporary arabesque wall separates the elegant guestroom from the vast bedroom that has a wide bathroom and a central couples' Jacuzzi, leading to a divine furnished terrace with a comfy sunbed.

The spacious Presidential Suite at Steigenberger ALDAU Beach Hotel is perfect for a large family of 6. With numerous features like a private gym, a living room, a roof terrace with an open-air kitchen and bar, and a stunning infinity pool that overlooks the resort and the Red Sea.

Relish a complete feeling of indulgence from the comfort of your outdoor couples' Jacuzzi with your loved one, in the newly modern designed, Signature Suite. The sleek contemporary furniture with white and beige wooden details compose an elegant and tasteful combination. The suite features a vast living room, a dining room, and a massive balcony with transparent glass panels to enjoy an unparalleled view of the Red Sea.

Ideal for romantic holidays, this elegantly decorated Spa Suite offers all the amenities that set the standard at Steigenberger ALDAU Beach Hotel. Featuring spacious bedrooms with a separate area for your private Sauna and Jacuzzi.

Located at Steigenberger Pure Lifestyle are 2 perfect villas for large families & groups of all sizes. Each villa has 4 standard suites, with superior living and relaxation facilities, featuring smart designs and a contemporary style that has a beachfront scene of the Red Sea that you can enjoy from your large terrace or private garden.

Now let's take a look at the services that come along with the lavish suites, literally on a silver platter. The Signature Suites Program of Steigenberger ALDAU Resort offer you countless facilities such as personalized check-in/out whenever suits you, free transfers from/to Hurghada airport, upon-request complimentary in-room breakfast, private Golf car on premises upon-request, gym access with a private trainer one hour per stay, luxury bathroom amenities, WhatsApp service for instant assistance with any enquiries, special daily turn down service, VIP welcome amenities (fruit basket, pastries, cookies), in-room mini-bar free daily refill with local beverages, unlimited high-speed free Wi-Fi, laundry service: 5 pieces per person, per stay, and 25% off your next stay when you book directly through our website,

In addition to the already luxurious package, ALDAU SIGNATURE Program bookers are entitled to the category-leading benefits of our best-in-class loyalty program "ALDAU Select".

Book directly online through www.steigenbergeraldau.com