Have a Healthy Vacation and a "Pure Lifestyle"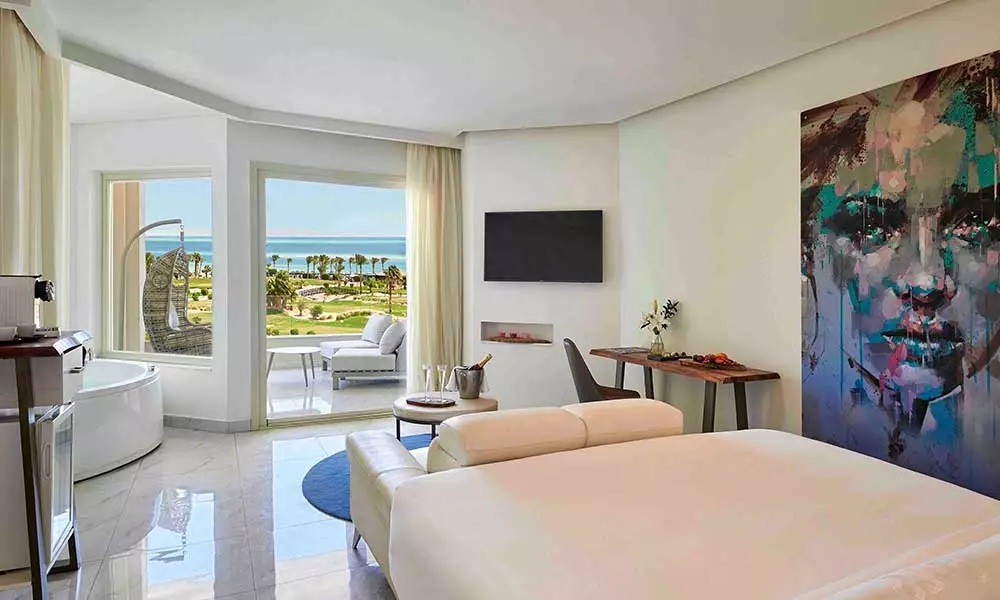 Traveling requires preparation beyond packing and planning a good itinerary, we ought to consider our physical health. But this shouldn't stop us from enjoying a marvelous vacation by the sea at Steigenberger Pure Lifestyle.
Steigenberger Pure Lifestyle is an adult-only, 5-star boutique hotel that thrives on creating a utopia for travelers who seek serenity, modernity, and simplicity. Guests check in to relish a Mykonos-like vacation in the beautiful heart of Hurghada.

Here are a few tips to stay strong and healthy without changing your plans, and enjoy the trip that you've been looking forward to

1. Abundant sleep with a light tummy
Did you know that people who sleep less than 6 hours per day are more likely to get sick? Your sleeping pattern has a high effect on the strength of your immunity.
So make sure you get at least 7 hours of sleep. Yes, this one hour can make a huge difference.

Try to keep a consistent sleeping schedule, go to bed at a reasonable time at night and wake up early even on weekends.

Enjoy a profound sleep that you will fall deep into, as you lay your body on the cozy Norwegian mattress and the luxurious white linens of the dreamy beds of Steigenberger Pure Lifestyle.

As difficult as this is for many people, but try to avoid screens and electronic devices at least 30 minutes before you go to sleep. These blue screens increase your alertness, and overtime, it can cause a significant deficiency in your sleep.

Sleep light, sleep tight.

Choose from a wide variety of healthy and light dinner-options at any of the 7 restaurants and international cuisines at Steigenberger Pure Lifestyle.

Avoid caffeine before bed. Many adults are used to having a cup of coffee or tea right before they go to bed and that is just crazy! Having caffeinated beverages near your bedtime is going to deprive you of the deep sleep that your body needs. It will keep you alert no matter how much you think it doesn't.

Save your cup of coffee for a magical morning espresso with your own machine in your suite. And enjoy the same richness in a decaffeinated cup of coffee in the evening, or order a fresh juice at the lobby bar.

2. Hydrate. Hydrate. Hydrate!
Water is basically life and the best body cleanser that helps carry oxygen out to your cells, filters the kidneys, and purifies your precious organs from toxins.
The ideal amount of water to drink per day is 8 glasses, or 2 liters. This is why at Steigenberger Pure Lifestyle, we make sure to provide our guests with all kinds, and many brands of water on every corner of the hotel. Such as Sparkling, and detox water.

Pump up your cold glass of water with a little slice of lemon or cucumber, and give yourself a boost of Vitamin-C with an interesting taste.

Find our stimulating detox water at any of the bars at the pool area, The Gourmet Market, and at the Lobby Bar, filled with fresh lemon slices, cucumber, and nourishing ingredients.
3. Immunity-boosting foods and beverages:
Relying on artificial supplements can weaken the body's natural defense mechanism. The best body armor is an organic-nutrition lifestyle.
And since wellness starts from the tummy, at Steigenberger Pure Lifestyle, we care to create a tranquil atmosphere and filling, yet healthy menus at the 7 live-cooking stations at The Gourmet Market.
Look for the following 10 ingredients in your daily meals to help boost your immunity.
1.     Citrus fruits like orange, lemon, grapefruit, tangerines, and lime are rich with vitamin C.
2.     Red bell-peppers are 3 times as much vitamins as oranges!

3.     Broccoli is filled with minerals, vitamins A, C, and E, fiber, and many other antioxidants.

4.     Popeye's favorite food, spinach is extremely healthy when cooked as little as possible to preserve its natural nutrients.

5.     Garlic is a very strong immunity-booster, and luckily, it's an essential ingredient in so many recipes.

6.     Ginger helps with a sore throat, nausea, and inflammation.

7.     Yogurt is a great source of vitamin D, especially Greek yogurt. Add your desired nuts, fruits, honey, or jam rather than the artificially flavored ones.

8.     Fight off cold with the vitamin E in almonds that are packed with healthy fats. All you need is 15 mg per day.

9.     Sunflower seeds are rich in vitamins E & B-6, nutrients like phosphorus and magnesium. So chew on you little parrot you.

10.  Green tea is like a magic potion for your body. Full of antioxidants, rich in catechins, improves the blood flow, it also helps preventing heart-related problems, and many other benefits.

Head to Alex Beach Club for a magical experience of fine dining with a breathtaking beach view, and a scrumptious meal of fresh shellfish, enriched with protein, healthy fats, omega-3, vitamin B12, and zinc.

We got you covered at Steigenberger Pure Lifestyle, promising you a laidback vacation and a travel-love-story that will give you butterflies every time you remember it.