Foodies, Here Are Unique Dining Places in Hurghada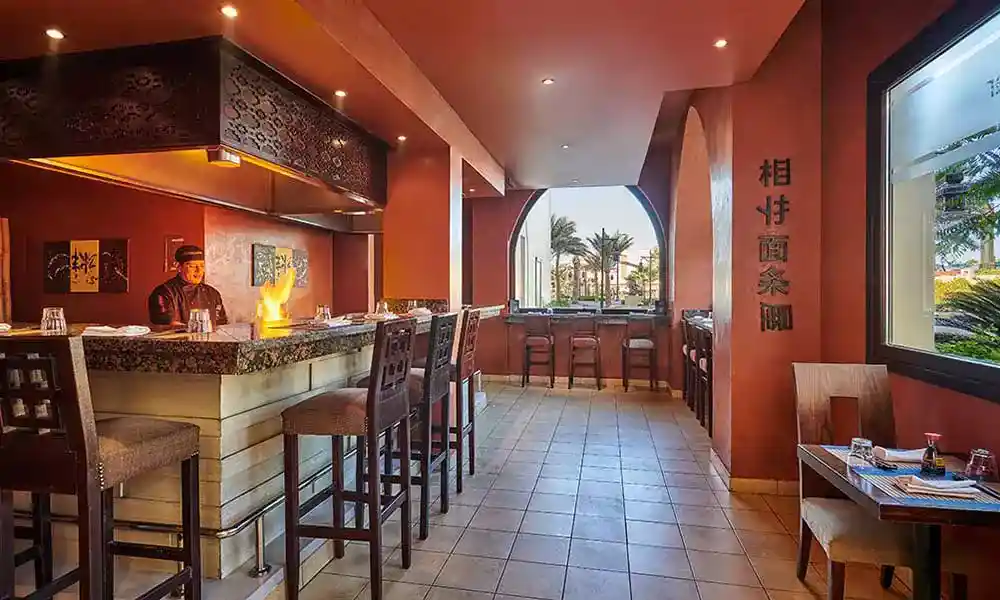 People travel for so many different reasons, but everyone can agree that we always want to make the most of our trip and nourish all of our senses. We want to visit the best places, relax, party, hear the best music, and devour the most delicious food. Here is a hand-picked selection of the finest places to dine at the jewel of the Red Sea, Hurghada.
S-square is an authentic Asian complex of 3 sensational restaurants that fulfill all your East-Asian food dreams. Sushi Bar, Sumo House, and Samurai are completely different, but equally as remarkable. Located at the most modern touristic spot in Hurghada, ALDAU Art Promenade with special discounts for Steigenberger ALDAU Resort guests and very reasonable prices for everyone.

Have you tried the magical experience of Teppanyaki? Well, even if you have, it can't be as fascinating as the one at Samurai. The fire show can literally take your breath away while you start to dribble over the enticing smell of the food as you watch it being cooked to perfection. Choose between seafood, chicken, or tell the chef how well you want your juicy steak to be done, with your desired side dish. And hold on to your chopsticks!  

Let's agree that sushi is a sophisticated Japanese dish that comes with a special fancy vibe, no matter the ambiance, it is a simple meal with a complex flavor. Book your table at the refined Sushi Bar at S-square to guarantee a wide variety of the freshest and most exceptional seafood, and enjoy awe-inspiring bites and rolls.

The third restaurant in this wonderful Asian trio is Sumo House. Relish the most essential element of the Chinese cuisine, Chinese noodles, and enjoy many different types of noodle dishes, where every strand of noodles is home-made with love, and smothered in a diverse variety of sauces, the freshest vegetables, and seafood, meat, or chicken.

Make sure to book your table so you don't have to wait at all, every day from 6 pm until 11 pm, and prepare yourself for a royal welcome, a friendly service, an authentic ambiance, and the best-in-class quality food and an amazing fine dining experience.

Because 3 Asian-cuisine restaurants are not enough for our Asian-loving appetite, opening soon, as Thai as it can be, White Elephant at ALDAU Art Promenade right beside S-square. Taste the curry, sweet & sour, and sizzling spicy dishes of Thailand, with steamed, stir-fried, and deep-fried handmade noodles or rice. Topped with fresh seafood, chicken, or beef.

Check out their Facebook and Instagram pages for a closer look at their rich menu, their exact location, and booking details.