Explore the beauty of Hurghada and let the stars be your guide!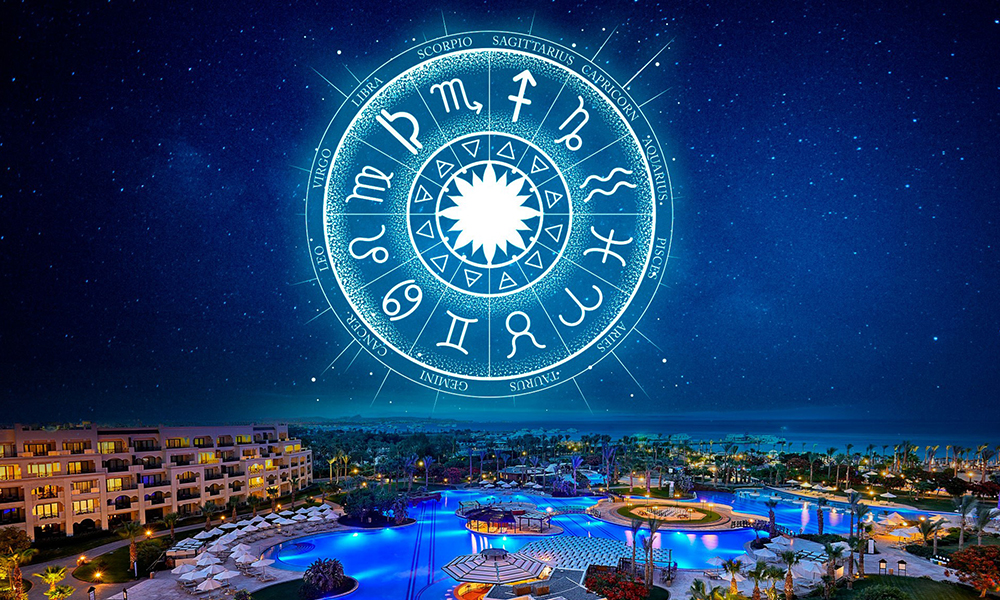 Dear Zodiac,  
Your destination is written in the stars. Let us guide you where to head for the best times!   


Aries – Fire sign
March 21 – April 19
Expect a fire of positivity and a burst of sunshine when you're around Aries! You'll definitely see the good side of life, surrounded by them! Always on the go, Arians are quite spontaneous and get bored quite easily, so make sure they're always entertained!

Things to do:
The internationally certified Aqua Park will definitely keep you engaged with enormous things to do from colorful water slides for all ages to a long Lazy River, make sure you have your snooze on so you don't fall asleep! The world of fun is endless at Steigenberger Aqua Magic.    


Taurus – Earth sign
April 20 – May 20
Considered to be the anchor of the zodiac cycle, the "Bulls" fancy luxury and really good food! Just like a bull, they represent determination, power and stubbornness. Quite unexpected with their actions, they can be great friends but don't ever try to fire them up!

Things to do:
For the love of food, head to Alex Beach Club and Restaurant at the award-winning Steigenberger Pure Lifestyle right by the magical seashores and explore exotic tastes in a magical ambiance! From Asian to Mediterranean flavors, your taste buds will certainly thank you.


Gemini – Air sign
May 21 - June 20
Nothing shines positivity as Gemini's do! They are the life of the party, little spontaneous freaks and never live for dull moments! Looking for the spicier side of life, "the twins" usually prefer a travel destination with a variety of things to witness; exploring both the sea and city life!  

Things to do:
A 30-minute cruise from Steigenberger ALDAU Resort to the beautiful Mahmya and Orange Bay at Giftun Island will land you on an island of paradise! As the sun sets, head to Hurghada for a cultural tour, gaze through beautiful masterpieces at the art galleries and collect all types of souvenirs from precious stones to Arabian spices and much more. If you're a shopaholic, you'll find over 100 retail shops with diverse products and amazing prices! Hurghada has it all!


Cancer - Water sign
June 21 – July 22
Love to be surrounded by water and recharge in a natural hideaway, this spiritual soul is the most caring and sensitive in comparison to other stars! Cancers are great to be around, given that they keep priority to family before anyone else!

Things to do:
Liven up and recharge by the relaxing Planet Spa. Take some time out and focus on your happiness and well-being with a reviving royal experience, allowing you to re-discover a new you! From Body massages, natural scrubs, facials and a saltwater whirlpool surrounded by special blends of aroma oils leaving you detoxified and relaxed.


Leo – Fire sign
July 23 – August 22
The center of attention and the rulers of the jungle, "Leos" like to take risks; thanks to their natural-born traits, they are extremely difficult to resist and love is always in the air around them. You can never let down a Leo if they have a plan in mind!  

Things to do:
Love is callin'! The exceptionally Steigenberger Pure Lifestyle is the hippest destination that will keep you and your lover on fire! Get ready for the suite life and enjoy up to four heavenly suite types, all designed with breathtaking beach-front views and an indoor Jacuzzi for you and her. The design itself will leave you in awe. Not to mention, they'll keep your heart pumping with lively beach parties!

Virgo – Earth sign
August 23 – September 22
It's easy spotting a Virgo! You'll always find a book in their hand anywhere they go! This earth sign tends to be a perfectionist and loves to see the details in everything, they're also very fond of arts & culture! When planning a trip with Virgos, no need to worry about any planning, they'll get to organize the trip, thanks to their analytical skills!

Things to do:
Step into the world of arts and culture at ALDAU Art Promenade where you get to discover Hurghada's all-year-long outdoor art exhibition, showcasing breathtaking pieces from sculptures and abstract to boutique-style shops with a variety of goodies from Egyptian local crafts. You can also get a hands-on experience with their live workshops showcasing hidden talents from world round artists! For the love of reading, AUC Press shop will be your go to spot!  

Libra – Air sign
September 23 – October 22
The most charming of signs, Libras do crave the nightlife! Represented by a set of scales, Libras prefer having a trip with a balanced destination. A taste of both worlds that would match their character.

Things to do:
Start your stay at Steigenberger ALDAU Beach Hotel, combining both ultimate luxury and unlimited comfort. End the night with vibrant nightlife at Elements Night Club & Lounge.

Scorpio - Water sign
October 23 – November 21
With their bold and mysterious personality, this water sign is always happy near the coastal areas to break free! You'll mostly find them secluded in some islands with their own thoughts. Expect to find them in less-crowded areas.   

Things to do:
What better way to start the day than by a breathtaking panoramic view of the infinite horizon of the Red Sea at the Gourmet Market with its elegant live-cooking stations that will entice your taste buds!   


Sagittarius  – Fire sign
November 22 – December 21
Known as the wanderer and natural traveler of the zodiac, Saggis are people's person, you'll mostly find them talking to locals and pushing the boundaries. They are bold, fierce and truly love to explore the world, so no ordinary trip will do for them!   

Things to do:
Explore the beauty of the Red Sea with speed boat trips or swim with the dolphins for a truly unforgettable experience. Get your adrenaline rushing and take a dip into a world of magic! Witness colorful creatures and dive around the Red Sea's vibrant coral reefs, a journey like no other with Ilios Dive Center.  

Capricorn – Earth sign
December 22 – January 19
Capris lead, we follow. Known to explore each corner of where they head to, they are the dreamers of today, carrying a unique spirit to every room they enter. With their spontaneous, free spirit, they make the best travel partner!  

Things to do:
The options are limitless at Steigenberger ALDAU Beach Hotel! From jogging tracks, Jacuzzi Islands, Lazy River, a 9-hole par 3 golf course and various restaurants, this haven will fulfil all your needs!  

Aquarius – Air sign
January 20 – February 18
Always seeking to try out a new adventure to bring out their inner thrill-seekers, this adrenaline junkie likes to get their heart pumping. They live for everything innovative with a humanitarian sidekick. Dear air-bearer, the world is yours.   

Things to do:
Just as much as there's to discover at sea, the desert has so much to offer that will get your heart pumping! Take a beach buggy through the charming Arabian Desert, meet the Bedouins as they reveal mysterious stories while sipping on traditional tea and feel the thrill of driving down with a 4x4 while enjoying the majestic view!


Pisces – Water sign
February 19 – March 20
The spark this water sign lets out is like no other! Always seeking peacefulness, a meditating getaway will match their spiritual sign!  

Things to do:
Escape to a peaceful destination at Pure Sky Yoga and immerse yourself in a meditation journey for complete rejuvenation! Get your yoga mat ready and gaze into the mesmerizing azure hues and free your body and mind from any worries!