Discover the Hidden Gems of Steigenberger ALDAU Resort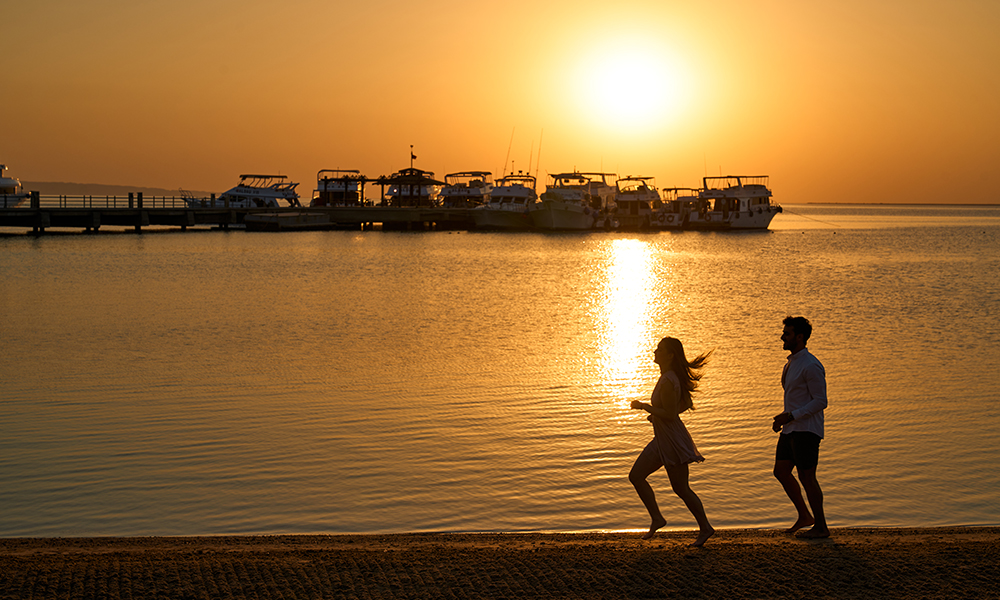 Get the best of both worlds with diving and water slides at this resort
If you are an aquaphile, the resort engulfs Ilios Dive Club & Aqua Center, which is directly located on the beach and has its private marina. It offers water activities and all the services a diver or a non-diver may need to enjoy an incredible holiday and relish the pristine beauty of the Red Sea. 
For more water activities, the centerpiece of the entire resort is the certified Aqua Park that features extensive water slides, from wide family slides to tube slides to free fall slides to a family multiple-feature water playground. The Aqua Park is exquisitely designed up to the highest International standards in quality and safety. There is also a 400-meter Lazy River that proffers water ride on a raft in a slow current.
Nourish Your Soul: Rejuvenate Your Body with Power and Positive Energy
In search of Zen energy, there is no better escape than relaxing at a spa, and amidst the beauty of the dazzling Red Sea, the resort's spas provide a tranquil getaway that will soothe your mind, body, and soul. Luxurious, utterly modern, and designed with world-class standards, the resort's spas; Planet and Raa Spa will take you on memorable unwinding experiences. 
If you are a strong believer in spiritual health, so a great way to start your day is to salute the sun from your yoga mat, calm your soul, and rejuvenate your body with power and positive energy. Steigenberger ALDAU Resort offers daily yoga morning classes on the beach, and for a more breath-taking and professional yoga class, enjoy a different experience from the rooftop of the Steigenberger Pure Lifestyle at "Pure Sky Yoga" overlooking the Red Sea. 
A Golfer's Paradise: Exploring Steigenberger ALDAU Resort's Exceptional Golf Facilities
Steigenberger ALDAU Resort also uniquely features an on-site golf course, which is a 9-hole par 3 pitch and putt one, nestled on the beach overlooking the turquoise waters of the Red Sea, offering a challenge to all experienced golfers, with just a green card required to play. The resort is the only one in Egypt that offers free daytime golf rounds as part of its all-inclusive programs.
From Fresh Seafood to Premium Cuts: Experiencing the Resort's F&B Scene
There are endless Food and Beverage (F&B) options within the resort, as you can experience the true taste of Asia right in the middle of Hurghada at S-Square Sushi Bar, and enjoy the perfectly rolled Japanese fresh bites, fried or raw, passionately put-together right in front of you by the most talented sushi masters. Also, you can relish many different types of noodles, and revel in the most mouth-watering Teppanyaki show. 
There are additional F&B options that will also give you distinctive dining experiences that are worth traveling for. You can dine at Moby Dick, a paradise for the meat-lovers. Besides its juicy and tender steaks, it is also one of the few places in Egypt that serve camel steaks. You can also head over to Alex Beach Club & Restaurant, as walking into this restaurant just feels like you have landed in Mykonos. 
If you are a fan of Egyptian food, you can drop by Namliyah to savor the best and most authentic Egyptian dishes. If you are craving curry, sweet & sour, and sizzling spicy dishes of Thailand, with steamed, stir-fried, and deep-fried handmade noodles or rice, topped with fresh seafood, chicken, or beef, you ought to try White Elephant. 
Hangout & Shop amidst Artistic Splendor at Steigenberger ALDAU Resort
After spending an entire day by the beach, you can visit ALDAU Village Mall, a mixed destination of indoor and outdoor experiences that offers unparalleled major anchors of shopping retail, fine dining, entertainment, and services. It is an all-year-round hub full of gleeful events, and entertainment series of different episodes, and it is redefining Hurghada's experience of enjoyment for all the family members.
To please your cultural and artistic sides, ALDAU Art Promenade is your destination to connect, shop, and dine in the heart of Hurghada. Meaning, it is the first open-air art gallery on the Red Sea, showcasing exceptional Egyptian and International Art & Craft. 
Ending the day on a perfect note, you can pass by Elements Club & Lounge, which is the American-inspired nightspot on the ALDAU Art Promenade. It offers a multitude of nightlife entertainment, after-hour dining at its best, and well-known international DJs.
You will not need to look further nor go farther, you just need to travel to Hurghada and enjoy your unmatchable stay at Steigenberger ALDAU Resort, to experience "The Better Side of Summer".