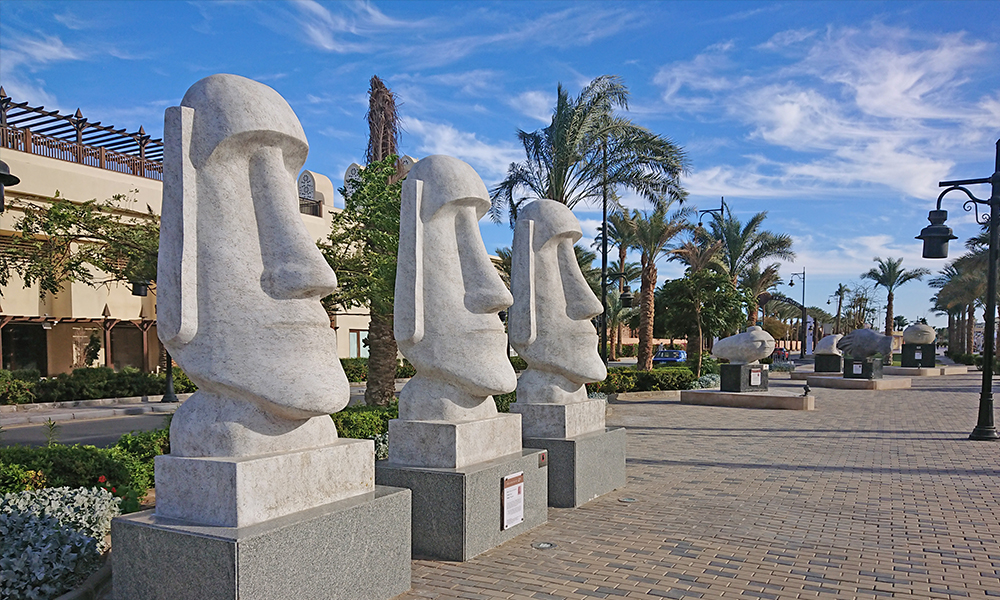 Magical Venues & lip-smacking Menus 
ALDAU Art Promenade stretches through the heart of the grand complex Steigenberger ALDAU Resort in Hurghada, the shimmering boulevard stands out with its creative blend of modernity and art, offering an outdoor gallery of boutique-style shops and services, restaurants & cafes, events, and parties at the Arena or Elements Night Club.
Decorated by large sculpted masterpieces, designed by international and local artists, the promenade is an all-year-long outdoor art exhibition, displaying abstract and symbolic pieces, and paintings that uniquely ornament its beautiful sidewalks. Always alive with ongoing carnivals, musical concerts, and colorful live shows making it an exciting hang-out spot for the entire family, couples, and for groups of friends.

Stop and read the stories on the metal plates of the statues written by inspiring sculptors that have created these magnificent and unorthodox art-pieces using fiberglass, Iron scrap, granite, and stainless steel. 


What happens at the Art Promenade?


Kids' carnivals are usually hard to resist by adults. Everyone wants to be a part of the monthly and weekly street festivals, art exhibitions at Osraca Art Gallery & Bazaar, and Hurghada International Art Carnival. The Promenade is full of art programs, hosting local and international visual artists who create live workshops that last for days at different locations around the promenade. These live workshops inspire children to discover their own talents in a world full of art projects, creativity, and new ideas while making lots of new friends.


Explore the lights of the Promenade at night


Celebrating at night the triumphs of the day, the Art Promenade is regularly full of festive dancing shows, concerts, and live music. And for a wild night, located inside the Art Promenade is the American-inspired party place Elements Night Club & Lounge, where dancing is taken very seriously. Featuring the greatest local and international DJs throughout the year. Serving an exciting menu of fresh sushi and hot juicy appetizers that will give you the energy you need for partying so hard.


The unique shopping experience


We thrive to take celebrating to another level, but on ordinary days, ALDAU Art Promenade offers numerous services and plenty of shops for diverse products. Local and international shoppers will turn heads to the wide variety of goodies, like fashionable clothing, jewelry & accessories, watches, refined leather products, cotton-wear, shoes, papyrus & wood products, carpets, perfume, and handicrafts. 
Restaurants
Hold on to your chopsticks! At 4 irresistible Asian restaurants, foodies will feel like they have just traveled to another continent at the gates of the Thai restaurant, White Elephant with the curry, sweet & sour, and sizzling spicy dishes of Thailand, and S-square, where they will explore a new mouthwatering taste of Asia. 
Ssquare is divided into 3 fancy-dining restaurants, the Japanese Sushi Bar, The handmade Chinese noodles at Sumo House, and the magical fire show of the Teppanyaki table at Samurai will definitely leave you with a full tummy, out of breath, and madly in love.
The Egyptian Eatery Namliyah Restaurant is the newest dining spot at the Promenade. Now imagine Egyptian street food but a hundred times fancier and presented as high-end dining. This cozy place that you can't miss has a vast menu of Alexandrian liver, oriental sausages, hawawshi, fried shrimps and calamari, and for dessert we recommend the juicy feteer with nutella. Don't be shy to unbutton your pants and give your belly some extra space for a snickers milkshake and possibly a food coma. 

Raa Spa


Away from the city's fast-paced life, the award-winning wellness getaway Raa Spa awaits you at the promenade. The modern spa focuses on professional treatments in a warm atmosphere with international standards, and a highly qualified team with certified therapists. Offering a world of beauty and the best of an international spa. Massage the stress away, and unclench your tensed muscles with 10 luxurious massage and treatment rooms. Thai body massages, natural scrubs, facials, harmonic combinations of aromatic elixirs, melodious sounds, or even captivating scents, you name it!