A Day in the Life of a Tourist in Hurghada: Must-Visit Attractions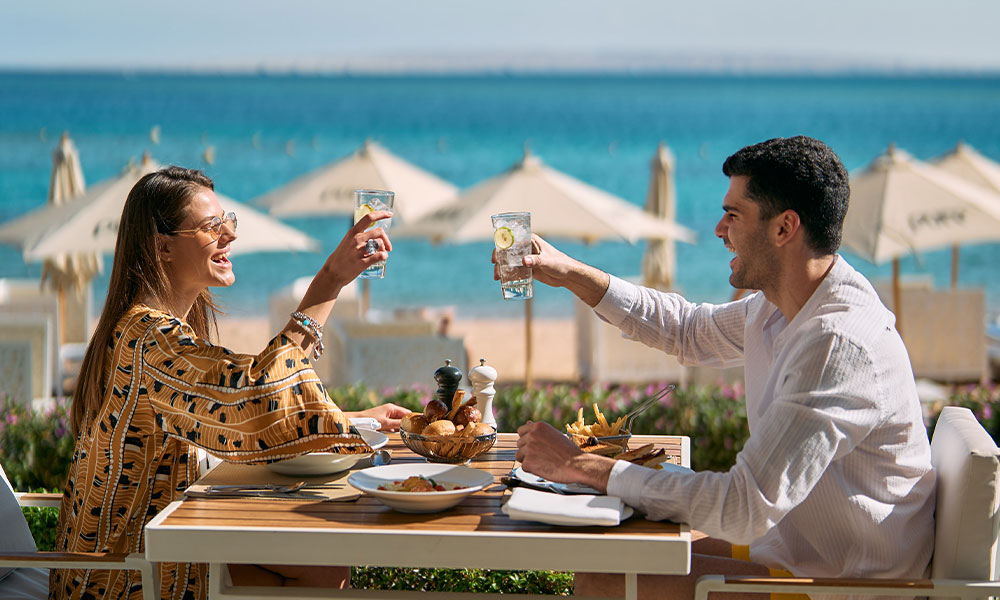 Why Hurghada is the Perfect Destination for a Beach Getaway
An important fact about Hurghada's airport is that it offers direct flights from and to numerous countries. So, it is super easy to head to Hurghada directly without having to stop by Cairo, and trust us Hurghada is definitely worth dedicating a whole trip to it and just it. Meaning, the minute you set foot in this resort town you will get taken aback by its pristine, crystal-clear turquoise waters, and its vibrant marine life. Undoubtedly, it is your perfect go-to if you want to get afar from the hustle and bustle of city life.
For all the aforementioned factors, Hurghada was positioned as one of the most idyllic destinations for snorkeling and scuba diving, as these activities are probably the first thing you will want to try over there. In addition, you can go on a 45-minute boat ride from Hurghada to Mahmya Island, where you can live a laidback moment on its warm sands. For above-the-water thrilling activities, you can go on a parasailing adventure.
From Land to Sea: Horseback Riding and Exploring Hurghada's Aquarium
Hurghada is also a great spot to try your first-ever horseback riding experience, as it is done with a twist over there. You will get drenched in the Red Sea's mesmerizing water while riding the horse, with a heart-warming and picturesque sunset as your backdrop. You can also be taken on a boat trip that takes you to the best dolphin-watching spots to see them first-hand. Next, you might want to pay the Hurghada Grand Aquarium a visit, to enjoy an immersive under-the-sea experience.
History Comes Alive at Hurghada Museum: A Journey through Ancient Egypt
Speaking of the interesting places to visit is the captivating Hurghada Museum, which is bound to fill the visitors in on the deep-rooted and rich history of Egypt. Another museum to visit is the Miniature Museum of Egypt which showcases replicas of well-known and traditional Egyptian monuments, built in smaller sizes. Well wait, have you ever heard of Hurghada's Sand City? If not, it is a fascinating open-air museum that will astonish you with its creative and attractive sand structures.
From Beaches to Pyramids: A Day in Cairo from Hurghada
If you want to get out of the city for a change, you can simply commute to Sahl Hasheesh, which is another resort town that embraces a myriad of lively things to do. Another commute can be done to Luxor, which is 4 hours south of Hurghada. Not to mention that Cairo is also at a distance of 5 hours from Hurghada. So, you can easily plan a day trip to Cairo to see for yourself what this city is all about.
Discover the Vibrant Nightlife of Hurghada: Bars, Music, and More
When the sun sets, Hurghada gets more enchanting for that it comes alive most at night, with its bars, music, and a whole lot of people and activities that you do not want to miss. One of the spots that you cannot miss is Hurghada's stunning seaside promenade (Marina) that engulfs various restaurants of different cuisines (local and international), ice cream shops, and souvenir shops.  
Additionally, attending a Bedouin dinner is a mandatory activity that should be listed in your itinerary. The Bedouin dinner is simply a type of dining experience where Bedouins will cook your dinner right in front of you, over an open fire, and under the star-studded sky. You will enjoy the flavorsome food while listening to traditional Egyptian music in the background, and enjoying a dazzling traditional dance performance.
The Best of Summer: Embrace the Relaxing Atmosphere of Hurghada
For calmer nights, one of the greatest attractions in this town is, hands-down, the countless and incredible stargazing opportunities. Adding to your serenity, you can also unwind with a well-deserved spa experience, where you will get to embark on a tranquilizing journey of a 45-minute Hammam spa that brims with pampering, including a full-body peel, a steam shower, and a rejuvenating massage.
Hurghada's sought-after proximity to the Red Sea breathes vacation vibes into the city's corners, inviting all who visit to fully enjoy and relax. From its abundant seaside promenades and diverse cultural side streets to its historical center, Hurghada is an invitation to slow down, be present, and experience "The better side of summer".